A Rebel's Guide to Vinyl
By Rebel Bourbon
|
Rebel Lifestyle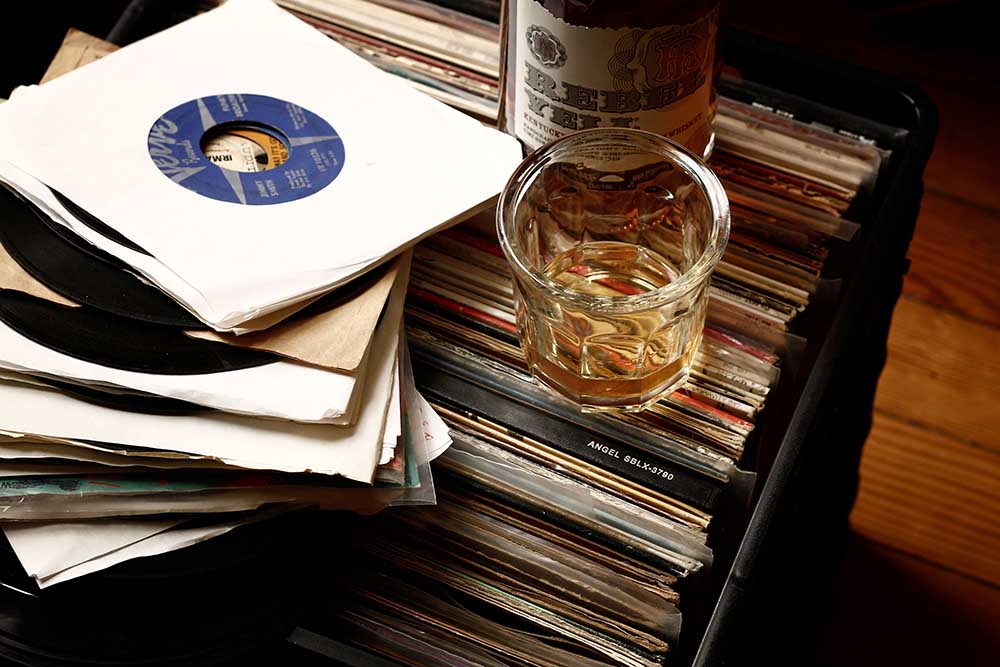 For sheer convenience, nothing beats digital streaming of music, one of modern mankind's best inventions. But old-school vinyl is on the rebound. Record sales have climbed in the past decade, with artists returning to new vinyl releases and stores rising to sell vintage LPs.
Vinyl opens the door to a world of sensory experiences: from the tactile pleasure of holding music in your hand to the artistry found in its packaging. With vinyl, each album is unique. Each has its own set of random sounds and quirks that reflect its history and owner — like a pair of boots that become worn after use.
That fragile, responsive nature of vinyl makes it worth treasuring, in the same way you cherish Rebel Yell bourbon. Vinyl makes for an infinitely engrossing hobby, full of roads to follow, whether you're a collector who lives for the chase of hard-to-find records, or a student of music, exploring tunes you've never heard.
If you're thinking about jumping aboard the vinyl comeback, we've assembled some suggestions for a basic vinyl rig that'll get you started. We're not hung up on brand names or getting caught up in a "whose stylus is bigger" contest. We're just here for the music.
The Starter Kit
The entry-level route is to buy an all-in-one turntable with built-in speakers. The durability may not match what you get from more expensive stand-alone components, but it lets you dabble in a vinyl fling for $200 or less. Look for one like the Electrohome Classic that's USB-friendly if you want to download album tracks.
If you're feeling more committed to your future relationship with vinyl, you'll want to buy the components — turntable, speakers, and cabinet — separately.
Turntable
The vinyl journey begins with the turntable. If cost is no object, you can drop crazy money — $10,000 to $20,000 — on a player from pioneering Technics. The company just reissued two legendary models from the '70s, the SL-1000R and the SP-10R. With a turntable like this, you can knock back a shot of Rebel Yell and watch your nest egg circle the drain as your vinyl spins and spins.
A more rational choice is the Audio Technica LP120-USB, a popular, well-respected turntable that even resembles the original Technics. It comes with an internal pre-amp, so you can hook up speakers directly, and it costs about $300.
If you gotta have a Technics, working used models are easy to find on sites like eBay. Replace the needle cartridge, and you could own a classic Technics for as low as $400.
Speakers
Small in size yet potent, bookshelf speakers deliver good, high-quality sound without eating up your living room or your budget. Seek out names like JBL or Pioneer, who rose to fame back when vinyl first came around. JBL's Studio 230 150-watt speakers are 9 inches high, in choice of black or dark brown, and issue forth a sound as rich and resonant as Rebel Yell Straight Rye Whiskey you'll want to sip as you listen.
Cabinet
The cabinet — to hold your turntable and store your records — is where you assert your personal style. For functional minimalism, go for cool, pale cubes like those made by indie artisan Simple Wood Goods. If you're saving space, the Line Phono Turntable is a slim-profiled stand with room for both turntable and records.
Target's midcentury modern cabinet is part of its retrospective Project 62 line celebrating the era when vinyl was in its original heyday and lets you keep your vinyl behind closed doors. Or there's always the yard sale route: Find a used table with a shelf and refinish or paint to your taste.