A Playlist of the 20 Best Whiskey Songs
By Rebel Bourbon
|
Rebel Lifestyle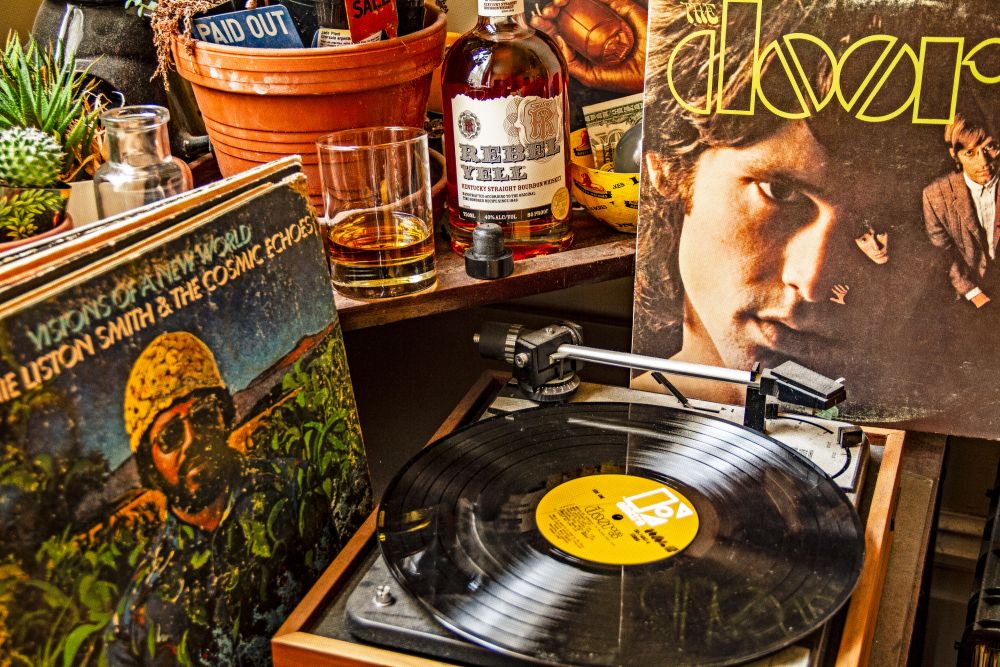 Although nothing tops whiskey in a glass, whiskey in song runs a close second — whether it's a party anthem or a ballad about a romance gone to hell. Here's a list of 20 of the latest, greatest songs about whiskey. Pour one and enjoy.
"Don't Water Down My Whiskey" by Alex Roe
On the surface, this laid-back party romp champions the joys of drinking your whiskey straight. But scratch the surface, and you'll find an allegory for accepting someone as they are. "Can't you see that I'm 100 proof?" it asks.
"Ain't Worth the Whiskey" by Cole Swindell
Glorious kiss-off to a cheating ex-lover lists all the things worth a toast: a good country song, another long workweek gone, a long-lost buddy. Pretty much any excuse, save one: "Baby, you ain't worth the whiskey."
"Must Be the Whiskey" by Cody Jinks
Twangy hard-driver has the singer trying to figure out where his love went wrong. "I've been drinking to remember and drinking to forget," he sings, before blaming it on everyone's favorite fall guy: yep, the whiskey.
"Drowns the Whiskey" by Jason Aldean and Miranda Lambert
There's something here about memory drowning the whiskey or whiskey drowning the memory, but forget all that and listen to the duet contrasting Aldean's mellow vocals and Lambert's lilting backup.
"Whiskey Girl" by Toby Keith
Breezy tune lists all the ways that whiskey surpasses every other sipper for the Whiskey Girl. Wine, beer, champagne, margaritas — nope. She likes her whiskey. Got it?
"Whiskey's Fine" by Adam Doleac
Sometimes closing time comes and you don't feel like going home alone. Sometimes a few piano notes say everything you want to hear. Sometimes it's better just to pour one and let the moment happen.
"Whiskey River" by Willie Nelson
Legendary anthem in which the Red Headed Stranger begs the river to never run dry is one of the most famous whiskey songs of all time, with its gently ambling tempo and a nice assist by a backup chorus of girl singers.
"Whiskey Glasses" by Morgan Wallen
When your heart's been broken, it can sometimes be helpful to view the situation from a different perspective. Like the advice offered here: Try seeing the world through whiskey glasses. It's a thought.
"Whiskey Lullaby" by Brad Paisley and Alison Krauss
Award-winning country-bluegrass song tells the tragic tale of a doomed couple, delivered in stunning two-part harmony by these two superstars. Best lyrics: "He put that bottle to his head and pulled the trigger."
"If My Name Was Whiskey" by Carly Pearce
Plaintive torch song of a woman craving attention from her whiskey-loving guy grabs you right in the gut, thanks to spectacularly urgent vocals and a massively aerodynamic sound that's kind of '80s in a good way.
"Whiskey, Whiskey, Whiskey" by John Mayer
Poetic sleeper about finding your place in the world starts on a single harmonica riff, then builds with piano, organ, horns, and Mayer's deceptively casual chorus: "Whiskey whiskey whiskey, wake up shake it off and repeat."
"Pour Whiskey on My Grave" by Jacob Bryant
No tears are shed in this blazing outlaw country opus about leaving the planet with a bang. Forget the pretty flowers. Instead, pour a little whiskey on his grave. Take a shot and set his spirit free.
"Whiskey" by Young Rising Sons
Mesmerizing ditty by New Jersey trio grapples with the allure of whiskey, but the song's power lies in its cool sonic effects, with quirky echo on the vocals and big chords that sound straight out of a space-flick movie soundtrack.
"One More Shot of Whiskey" by Josh Ward
Add this to the list of best cry-in-your-whiskey songs over a broken heart. Just one more shot of whiskey — that's all the guy needs "to drown out your damn memory," while a sympathetic round of fiddle and guitar chimes in.
"Whiskey Legs" by Tedeschi Trucks Band
Southern rocker cooks with sizzling organ and the sassy, sultry vocals of singer Susan Tedeschi. The lyrics are a mystical musing on summer, but what speaks most clearly is the bold and brassy guitar that closes this corker out.
"Whiskey Drinkin' Blues" by Andrew "Jr. Boy" Jones
What you've got here is a profound blues song with wailing vocals; a keening guitar; and a deep, elemental groove that'll make your eyes roll back in your head. "Jr. Boy" hails from Texas and he has the chops: He played with Rock & Roll Hall of Famer Freddie King.
"Alabama Song (Whisky Bar)" by The Doors
When the Lizard King commands you to show him the way to the whiskey bar or else we must die, with crazy calliope music spinning off in the background, you really have no other choice than to do as he says.
"Good Friends, Good Whiskey, Good Lovin'" by Hank Williams Jr.
You can't not have Hank Jr. on a list like this. He dedicated more songs to the joys of whiskey than any other artist. Out of his broad catalog, this wins hands-down. It's a celebration of all that's good in life: friends, love, and whiskey.
"Whiskey'd Up" by Jason Aldean
It's the eternal tale in which a bottle of whiskey, warm and smooth, fills the void left by a departed lover. The theme may not be new, but there's something infectious about Aldean's caramelized voice and the sprawling majestic chords that back him.
"Whiskey and You" by Chris Stapleton
This chestnut has been tackled by everyone from Aaron Lewis to Tim McGraw to Darius Rucker. None beats the raw edges of this rendition by the guy who wrote the song himself, thanks to its stark arrangement — just his aching voice and an acoustic guitar.
More Unconventional Wisdom