Bad-Axe U.S. Craftsmen Making Custom Hatchets
By Rebel Bourbon
|
Rebel Lifestyle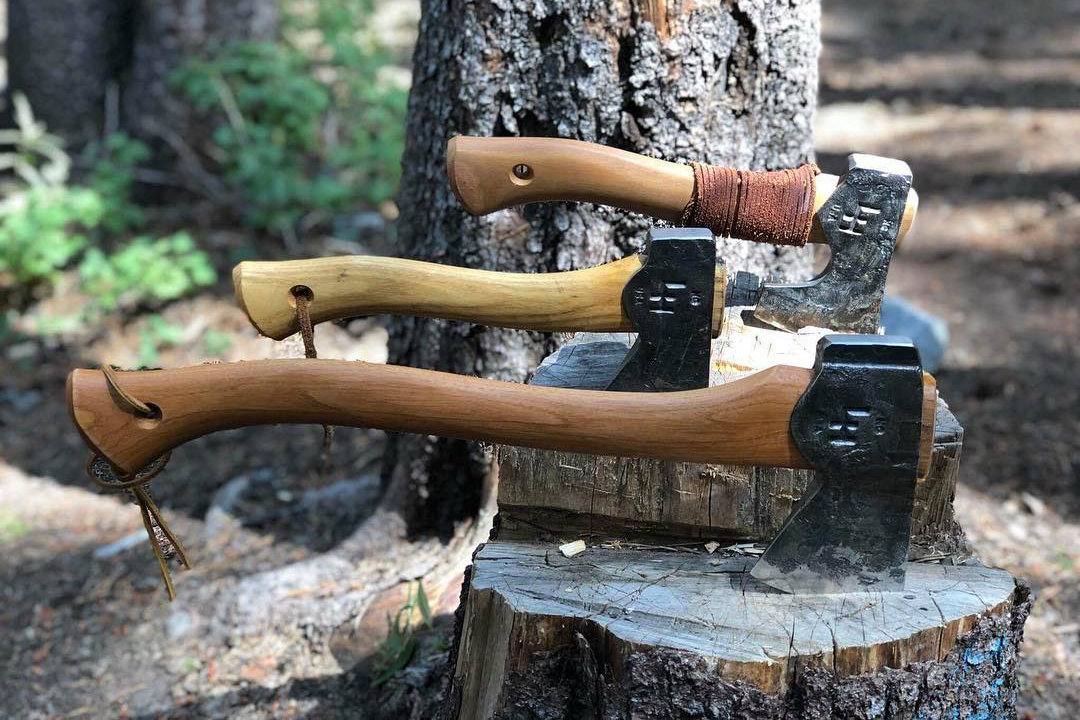 Why mess around with darts when you could be throwing an axe? Axe-throwing has become a thing lately, but you knew it was cool long before the rest of them. Which is exactly why you need to check out these three North American craftsmen changing the axe-game.
Hoffman Blacksmithing
If you visit this North Carolina company's website, you'll notice that new orders are currently closed. That's because Liam Hoffman's products are so popular that the demand for his hand-forged axes exceeds his ability to keep up. "Our goal is to create a tool that your great-grandfather would call quality," Hoffman says. "Made by people, not machines — we're creating legacy tools to be passed down generation to generation."
That long-term approach is especially impressive considering Hoffman is only in his early 20s. He began blacksmithing at age 13 and ran his own business before graduating from high school. "Once I started heating up and hammering on steel, I knew it felt right," he says.
From fireman's hatchets to saddle and camp axes, you can find a style and type to suit every lifestyle. You can even buy just the custom handles in several types of exotic wood, if you already have a blade you'd like to display on a mantel. And if this sounds like a hobby you'd like to pick up, Hoffman has written just the book for you: Forged: A Guide to Becoming a Blacksmith.
Willowcreek Custom Knives
Michael Brown grew up in the piney woods of East Texas, so it only makes sense that this former scout leader would be drawn to crafting outdoorsy items that are both durable and practical. Brown founded Willowcreek with knives, first turning out kitchen blades and pocketknives and then later Damascus steel beauties with handles made from bone, antler, horn, and four different kinds of wood.
He recently branched out to include axes and hatchets, several of which are the ideal size and shape for throwing. All Willowcreek products come with a handcrafted leather case that makes your shiny new blade look just as slick when sheathed.
North River Custom Knives
When Stephen Osborne needed a pair of historically accurate strap hinges for a log cabin he had built in the Ontario mountains, he ended up deciding to forge a pair himself — though he'd never done anything like it before. He discovered that he had a talent for the trade, and now Osborne handcrafts historically accurate replicas of knives and axes dating from 1650-1865, aka, from the height of the fur trade to the beginning of the Industrial Revolution.
The master bladesmith occasionally forges modern hunting and bowie knives too, but his focus is on tools that would have made our ancestors proud (and will last just as long). "Being a history buff," Osborne says, "my work is heavily influenced by our colonial past, when beautiful knives were forged by skilled craftsmen, one at a time with great pride in their work." Each step in making a handcrafted blade, from the initial hammer blow to the finishing "NR" stamp, is painstakingly done by Osborne.
More Unconventional Wisdom