The Definitive Rebel Yell Spotify Playlist
By Rebel Bourbon
|
Rebel Lifestyle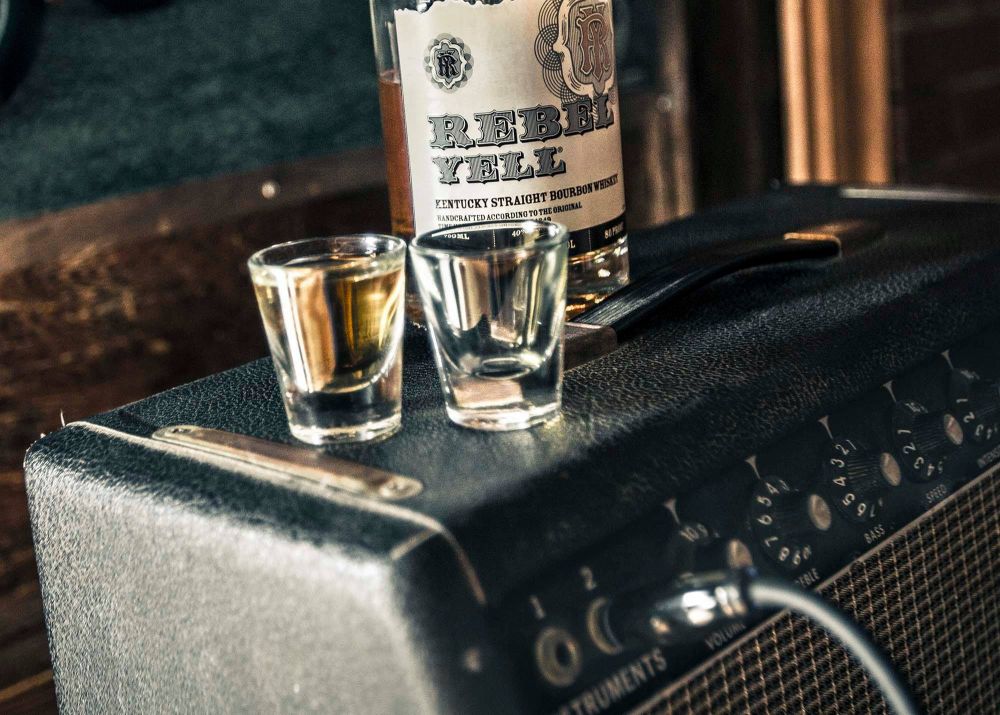 What songs bring out your inner rebel? We asked and you gave us on earful on Facebook, which then turned into this playlist. You're welcome.
Some of the songs were obvious choices (Billy Idol's "Rebel Yell," Warron Zevon's "Renegade"), while others surprised ("Ophelia" by the Lumineers). Overall, the Rolling Stones, Led Zeppelin, and Tom Petty were clear winners — but you already knew that, because this is your list.
So pour yourself a glass of Rebel Yell and crank up the volume.
1. "One Bourbon, One Scotch, One Beer," George Thorogood & The Destroyers
2. "Gravel Road," Clutch
3. "Drunken Lullabies," Flogging Molly
4. "Sultans of Swing," Dire Straits
5. "Rebel Yell," Billy Idol
6. "Renegade," Warren Zevon
7. "Turn the Page (feat. Kurt Van Meter)," Bob Seger, Kurt Van Meter
8. "Feel Invincible," Skillet
9. "Loose, Loud & Crazy," Kevin Fowler
10. " Whiskey in the Jar," Metallica
11. "Psychosocial," Slipknot
12. "Nerdy," Poison the Well
13. "Whiskey," Louisiana Swamp Donky
14. "Hail to the King," Avenged Sevenfold
15. "Know Your Enemy," Rage Against the Machine
16. "Call Me," Shinedown
17. "Bartender," (Hed) P.E.
18. "Wash It All Away," Five Finger Death Punch
19. "Smoke a Little Smoke," Eric Church
20. "Family Tradition," Hank Williams, Jr.
21. "Save Me," Shinedown
22. "State of My Head," Shinedown
23. "Unsteady," X Ambassadors
24. "Hero," Skillet
25. "Wrong Side of Heaven," Five Finger Death Punch
26. "Ophelia," The Lumineers
27. "Down in the Hole," The Rolling Stones
28. "Float On," Modest Mouse
29. "Lonely Boy," The Black Keys
30. "White Room," Cream
31. "Stuck in the Middle with You," Stealers Wheel
32. "Little Black Submarines," The Black Keys
33. "Fool in the Rain," Led Zeppelin
34. "Start Me Up," The Rolling Stones
35. " Lodi," Creedence Clearwater Revival
36. "Lookin Out My Back Door," Creedence Clearwater Revival
37. "American Girl," Tom Petty and the Heartbreakers
38. "Bad to the Bone," George Thorogood & The Destroyers
39. "School's Out," Alice Cooper
40. "Gimme Shelter," The Rolling Stones
41. "I Fought the Law," The Clash
42. "Beat the Devil's Tattoo," Black Rebel Motorcycle Club
43. "Tumbling Dice," The Rolling Stones
44. "Refugee," Tom Petty and the Heartbreakers
45. "Have a Drink on Me," AD/DC
46. "Whiskey Rock-A-Roller," Lynyrd Skynyrd
47. "Run Through the Jungle," Creedence Clearwater Revival
48. "Bitch," The Rolling Stones
49. "Stuck in the Middle with You," Stealers Wheel
50. "The Waiting," Tom Petty and the Heartbreakers
51. "This Life," Curtis Stigers, The Forest Rangers
52. "Folsom Prison Blues," Johnny Cash
53. "Ain't No Rest for the Wicked," Cage the Elephant
54. "Wherever I May Roam," Metallica
55. "White Room," Cream
56. "Gal Youngin," JJ Grey & Mofro
57. "Have You Seen Your Mother, Baby, Standing in the Shadow?" The Rolling Stones
58. "Fortunate Son," Creedence Clearwater Revival
59. "She's So Cold," The Rolling Stones
60. "I Need to Know," Tom Petty and the Heartbreakers
61. "Ramble On," Led Zeppelin
62. "I Stand Alone," Godsmack
63. "Lies," The Rolling Stones
64. "Listen to Her Heart," Tom Petty and the Heartbreakers
65. "Countdown," The Black Keys
66. "Another Brick in the Wall, Pt. 2," Pink Floyd
67. "Do I Wanna Know?" Arctic Monkeys
68. "Happy," The Rolling Stones
More Unconventional Wisdom