These Leather Saddlebags Are Rebel-Approved
By Rebel Bourbon
|
Rebel Lifestyle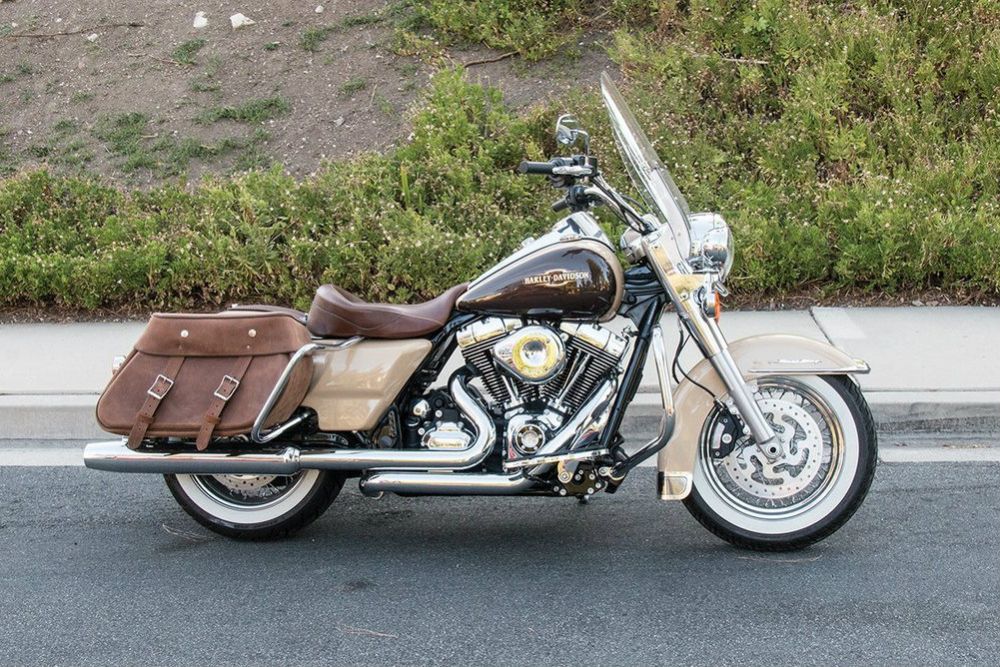 Motorcycles bring pure freedom. It's just you, the rumble of your chopper, and the horizon ahead. But after a few days on the road, there are provisions you can't do without. Rain poncho. Extra pair of socks. Backup bandanna. Bottle of Rebel Yell. Cargo like this is why the motorcycle saddlebag was invented.
If you're gonna strap something onto your wheels, there's no fooling around. Go for a bag made in the US of A and crafted to stick with you through the long haul. Here are three rebel-approved motorcycle saddlebags:
Leatherworks Inc.
Do you want a saddlebag that'll last you a year? Or do you want an American-made bag that'll be with you for as long as you have your bike? That's what Leatherworks is about. Founded in 1976, this proud, family-run outfit based in Stockton, California, does aftermarket saddlebags handmade by craftsmen who've worked for the company for decades.
There's an inventory of standard bags for just about every motorcycle brand. But Leatherworks also does custom orders that can be as colorful and elaborate as you want, whether that's a cream bag with braided or basket-weave finish, or a warm brown leather with a row of buffalo nickel concho studs.
Like all of the better American players, the company uses thick 10-ounce leather that'll stand up to whatever you dish out, acquiring the kind of weathered look that tells its own story about experiences lived and shared.
Biker's Outfitter
This family-owned, Boston-based retailer is a motorcycle superstore with all the gear: helmets, gloves, apparel, chrome parts, tires. It even sells souped-up bikes.
But leather is in the company's DNA; it used to be a leather factory and store. The leather saddlebags boast a heavy 10- to 12-ounce leather, cut from the center portion of the hide to prevent weak spots.
Biker's Outfitter sells synthetic leather bags, too. They are waterproof and UV-resistant — meaning they'll hold up to the abuse they'll face on the road.
The bags come in detachable versions, or they can be bolted to your bike. The signature look features buckles and braiding on the border, with quick-release clips hidden beneath so you can get in with zero fumbling.
Leather Pros
If you're looking for a saddlebag that's truly handmade, this is the place. Owner Garry Campbell is a motorcyclist himself and a master craftsman. At his Wisconsin shop, they do it all in-house, from tooling the leather to welding the metal brackets that guarantee your bag won't rattle.
Campbell's saddlebags summon a Sons of Anarchy vibe. He works in thick black leather only; if you want fringe and snakeskin, he'll send you to his brother, who owns Boss Bags, another saddlebag company down the road.
His bestseller is a retro bag that's a ringer for a revered saddlebag Harley made back in the '70s. It has a flat, sleek profile that lies close to your bike — perfect when you find yourself zipping through a tight spot — but it comes with a zipper that lets you expand the bag when you need more space.
One last thing: When you call Leather Pros, you'll probably get Campbell. He answers the phone himself.
More Unconventional Wisdom