3 Bourbon Drinks to Beat the Winter Blues
By Rebel Bourbon
|
Recipes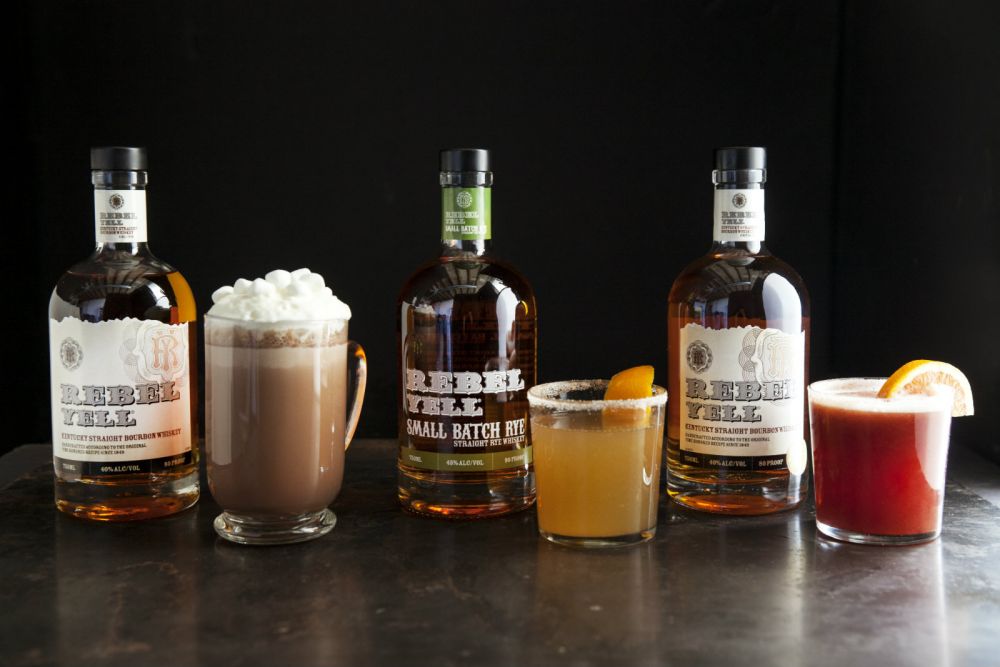 Do rebels even get the winter blues? They do when the Rebel Yell's running low and it's too damn cold outside to go get some more. (That's why you can buy Rebel Yell online* from the comfort of your couch. Crisis averted.) That said, a warming winter cocktail is always welcome this time of year. These bourbon concoctions will help combat the chill.
Rebel's Hot Cocoa
Yields 4
1/3 cup unsweetened Dutched cocoa powder
1/2 cup granulated sugar
2 1/2 cups whole milk
1/2 cup half and half
8 ounces Rebel Yell Kentucky Straight Bourbon
Whipped cream or marshmallows
Mix the cocoa and sugar in a large saucepan. Pour in 1 cup of the whole milk and stir until sugar and cocoa are dissolved. Add the remaining whole milk and half and half and heat over medium, stirring often until mixture is hot, about 150-160° F. Remove from heat. Pour 2 ounces of bourbon into each of four mugs. Pour in chocolate mixture. Top with whipped cream or marshmallows and serve.
Fiery Orange and Rye
Yields 2
4 ounces Rebel Yell Small Batch Rye
1 1/2 ounces fresh lemon juice
1 ounce triple sec
1/2 serrano or jalapeño pepper, sliced in half (and seeds removed, if desired)
2 orange twists
Wooden strike-anywhere kitchen matches
Optional sugar rim:
2 teaspoons granulated sugar
1/4 teaspoon chipotle chile powder
Add rye, lemon juice, triple sec, and pepper to a cocktail shaker filled with ice. Shake until chilled (about 10 to 12 shakes). Strain into a chilled old-fashioned glass.
To garnish, have the orange twist at hand. Light a match and hold it over the cocktail. Take the orange twist and hold the edges near the match for a brief moment. Squeeze the orange twist to bend it and force the oils through the flame onto the cocktail. Blow out the match and drop the twist into the cocktail.
Optional sugar rim:
Mix the sugar and chile powder together on a small plate. Moisten a clean dish towel and place on another small plate. Invert the glasses on the towel to wet the rims, then dip the rims in the sugar mixture.
Cranberried Rebel Cocktail
Yields 1
1 teaspoon granulated sugar
1/8 teaspoon ground cinnamon
2 tablespoons prepared cranberry sauce
2 ounces Rebel Yell Kentucky Straight Bourbon
Ginger beer
Orange slice
In a mixing glass, combine the sugar and cinnamon. Add the cranberry sauce, bourbon, and ice to the glass and stir. Strain into a fresh cocktail glass and top with ginger beer. Garnish with an orange slice.
* Online ordering is available in participating states.
More Unconventional Wisdom