The Gift Guide for Rebellious Bourbon Drinkers
By Rebel Bourbon
|
Rebel Lifestyle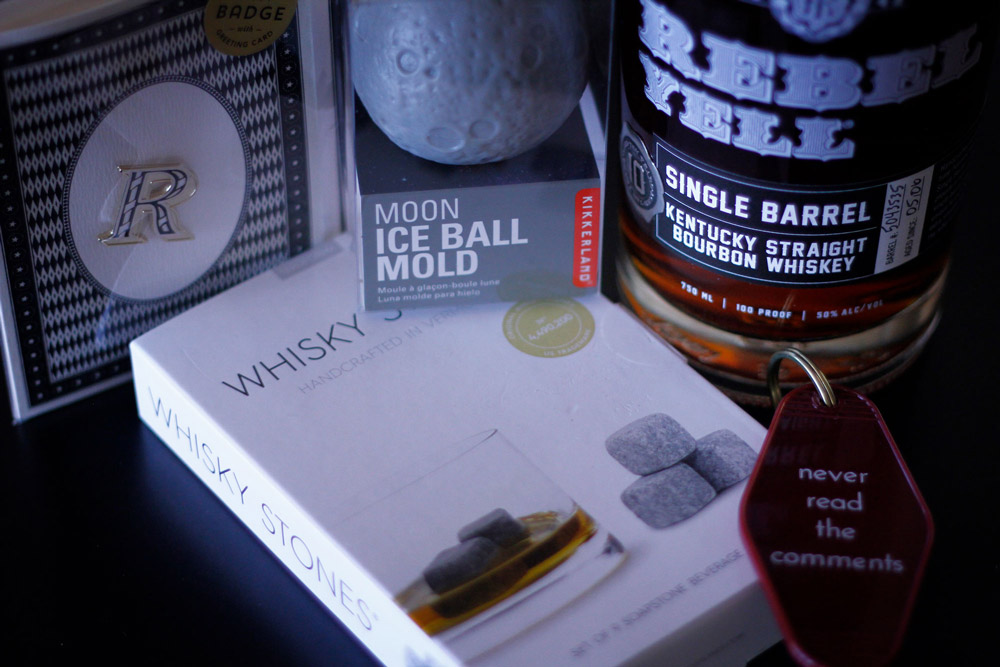 Any gift guide related to bourbon should start with a bottle of Rebel Yell, whether the original or Single Barrel. That almost goes without saying. Go get yours; we'll wait.
From there, it's a collection of unexpected trinkets you can gift to friends or ask for yourself, at a variety of price points.
Opal ice maker
With the Opal on hand, no longer will you have to drive by Sonic to pick up bags of "nugget" ice, revered for its slight softness that lets you chew on it without cracking your teeth. The machine, launched with great fanfare and a funding offer by a company in Louisville, Kentucky, is a rather steep $500. But at the rate rabid ice chewers go through this stuff, it'll pay for itself in a year.
Kentucky limestone filtered spring water
If you're going to spend $500 on an ice machine, you may as well go all in and drop some dough on a high-priced mixer. This limestone water is drawn from the same underground springs that percolate water through limestone rocks used in the making of bourbon. Limestone water has a high mineral content that seems to enhance the flavor of bourbon better than other bottled waters or, God forbid, tap water. What's great about this is that at $10 per 1-liter bottle, it's a luxury item you probably wouldn't buy for yourself — making it the perfect gift.
Horn shot glasses
How manly will you feel as you toss one back in this shot glass made from genuine hand-polished cow horn? The glasses are 3 inches tall, and because they're made from a natural material, each one is slightly different. A set of two is $18.
Bourbon-soaked cherries, made by you
This handmade gift beats anything you could buy from a store or online. The recipe's not hard to execute, and the payoff is grand: decadent bourbon-soaked cherries you can spoon over ice cream, bread pudding, oatmeal, or snack on straight from the jar.
Bourbon Barrel handmade guitar
This Lexington, Kentucky, startup is a company after our own heart, combining two of our favorite topics: bourbon and guitars. The electric guitars are made completely from reclaimed oak bourbon barrels, a plentiful resource in these parts. They're not cheap — they start at $6,000 — but they're hand-crafted, and hey, they recycle, too. Each guitar comes with a cutaway panel in the back where you can store your whiskey flask.
"Coffee Days Whiskey Nights" T-shirt
A simple T-shirt with a slogan to live by, Coffee Days Whiskey Nights, splayed on your front chest in weathered, worn-out type. It tells a thousand stories about tackling life with gusto, no matter what time of day it is, and burning the candle at both ends. $25.
More Unconventional Wisdom