A Rebel's Survival Guide to Camping
By Rebel Bourbon
|
Rebel Lifestyle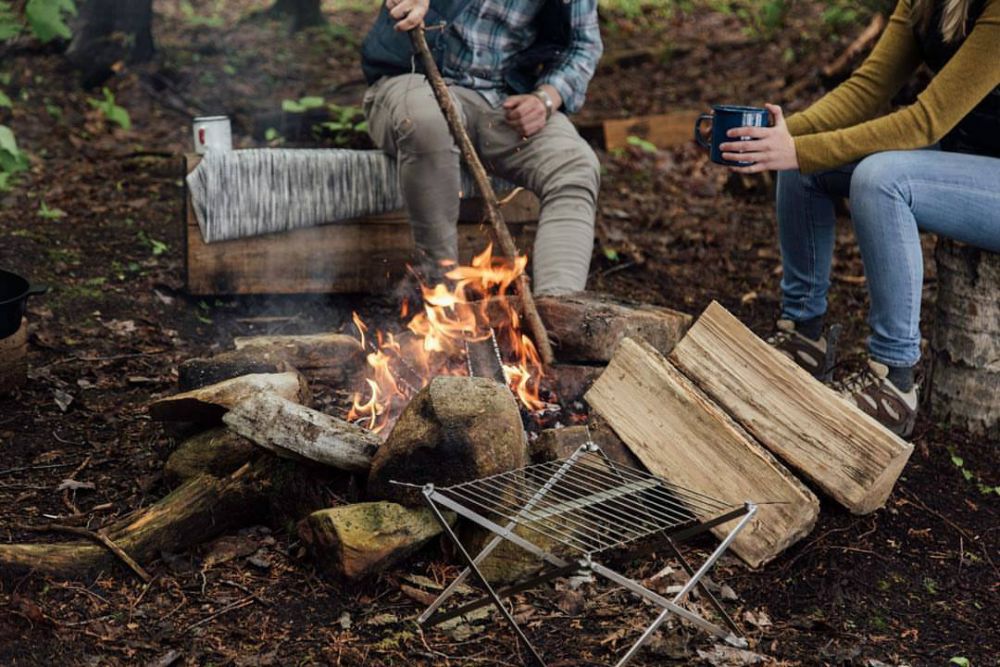 Before you can get back to nature, you need the right gear. Here are five items you'll want to pack. (Plus some Rebel Bourbon, of course.)
Travel grill
Rustle up some grub with the durable yet lightweight grill from Wolf Grizzly (shown above). Weighing in at a mere 2.2 pounds, it's made of only two pieces — a stainless steel grill that rolls into a compact, portable cylinder and a collapsible frame. The more you use it, the better the patina starts to look, and the easily adjustable height of the frame means you can cook over charcoal, wood, or gas fires.
Stainless steel percolator
Camping calls for strong coffee made over an open fire, and this nine-cup stainless steel rig does the job. An insulating hardwood handle keeps your fingers burn-free, but the heavy gauge construction means this percolator might last longer outside than you do.
Inflatable solar lantern
You're not afraid of the dark (right?), but you're still going to need light at some point. Compress and strap the PackLite Nova to the top of your backpack — or anywhere else that's guaranteed to get sun — and you'll have 24 hours of LED light (in low mode) after just 10 hours of solar charging.
Ultra-light sleeping bag
Bed down for the night in material that was originally developed for NASA. L.L. Bean's roomy sleeping bag features aerogel, the lightest insulator on Earth, which adds warmth without adding even an ounce of weight.
Portable water filter
Not everyone drinks their Rebel Yell neat. The LifeStraw is good for all hydration emergencies, filtering up to 1,000 liters of liquid in its lifetime and providing fresh, drinkable water in all situations.
More Unconventional Wisdom