3 Bourbon-Spiked Desserts for a Spirited Holiday
By Rebel Bourbon
|
Rebel Lifestyle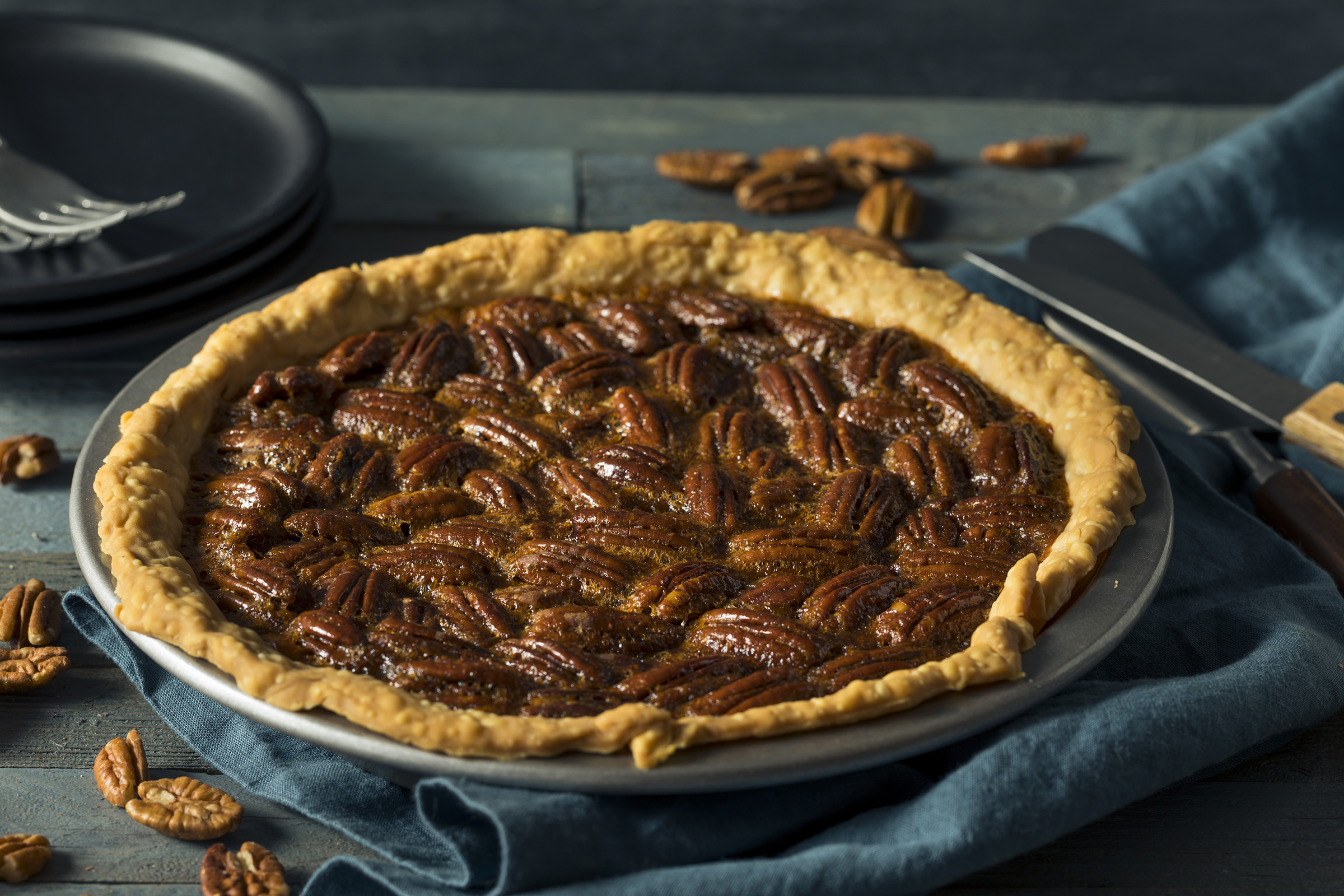 That Rebel bourbon should be part of the holidays is a given. Kentucky Straight, 100 Proof, 10-Year Single Barrel — whatever your pick, Rebel brings so much good taste that it'd be a crime not to have it at the holiday table.
So, the question is not whether Rebel should be there but instead, how do you give Rebel an even bigger chance to shine?
The answer: dessert. Bourbon is well-known for its total compatibility with desserts. Its signature flavor notes such as caramel and vanilla go hand in hand with dessert basics such as chocolate and cream.
These desserts include some all-time favorites, amped up with a well-placed splash of bourbon.
Chocolate Bourbon Pecan Pie
Pecan pie is a quintessential holiday dessert, especially in the South, where plentiful pecan trees give bakers a ready-made supply right in their backyard. It's easy to make — only one crust — yet the results are out of this world, with richness from the pecans and a caramel-flavored filling. The only thing that could make it better? Chocolate chips and a shot of bourbon.
1 9-inch deep-dish refrigerated pie crust
3 eggs
3/4 cup corn syrup
1/4 cup butter, melted
3/4 cup brown sugar, firmly packed
1/4 cup Rebel Kentucky Straight Bourbon Whiskey
2 tablespoons flour
1 teaspoon vanilla
1/4 teaspoon salt
1 1/2 cups pecan, chopped
1/2 cup chocolate chips
Whisk eggs lightly, then add corn syrup, butter, brown sugar, bourbon, flour, vanilla, and salt until blended. Add chopped pecans and chocolate chips until combined. Pour into pie crust. Bake at 325 degrees for 55 minutes. Let cool for at least 1 hour.
Bourbon Maple Ginger Custard
Bourbon and cream are meant for one another. They're a marriage between the richness of the cream and the assertive boldness of the bourbon.
This top-notch maple-flavored custard spotlights that perfect bourbon-and-cream pairing with a little something extra: The recipe calls for Rebel Ginger, which adds ginger spice, plus butterscotch and vanilla. But feel free to substitute any other Rebel bourbon.
1 1/4 cups heavy cream
1/2 cup pure maple syrup
1/4 cup brown sugar
6 egg yolks
1/4 cup Rebel Ginger Whiskey
1/4 teaspoon salt
1/2 teaspoon cinnamon
1 teaspoon nutmeg
Blend cream and maple syrup with an electric mixer in a medium bowl until combined. Add brown sugar, egg yolks, bourbon, salt, and cinnamon, and mix at medium speed for about 3 minutes. Pour into 8×8 glass baking dish and sprinkle top with nutmeg. Bake at 350 degrees for 45 minutes or until nothing sticks to a knife when inserted into the custard. Turn off heat and let cool in oven, then chill. Cut into squares and serve with a spoon of whipped cream.
Chocolate Bourbon Brownies
Bourbon and chocolate are the best pairing of all. Both are complex, yet they mesh in all the right ways, sharing elements like caramel and dried fruit. This recipe produces a brownie that's both chewy and fudgy, and the bourbon flavor puts it right over the top.
1/2 cup butter
1/2 cup chocolate chips
1 cup sugar
2 eggs
3 tablespoons Rebel Kentucky Straight Bourbon Whiskey
1/4 cup cocoa powder
1/2 teaspoon baking powder
1/4 teaspoon salt
3/4 cup flour
1/2 cup of chopped nuts (optional)
Melt butter and chocolate chips over low heat until combined. Pour into mixing bowl. Stir in sugar until combined, then add eggs, one at a time. Add bourbon, then cocoa powder, baking powder, and salt. Fold in flour quickly, plus nuts if adding. Spread in an 8×8 pan coated with cooking spray. Bake for 25 minutes at 350°. Let cool before cutting. Makes 16 small or 9 large brownies.
Bourbon Chocolate Bites
These truffle-like bites pair chocolate and bourbon, but in a way that seriously hammers home the bourbon. The bites aren't baked, which means that the bourbon is at full strength, not cooked down, making this a decidedly adults-only treat.
8 ounces of dark chocolate, finely chopped
1/4 cup heavy cream
1/4 cup Rebel Kentucky Straight Bourbon Whiskey
Shredded coconut or finely chopped nuts
Heat cream in a saucepan over medium-high heat until you see fine bubbles; remove from heat and let cool 1 minute. Place chocolate in heat-proof glass bowl and pour over hot cream. Let sit 2 minutes, then stir with spatula until smooth, flattening any bits of unmelted chocolate. Add bourbon and stir until combined. Cover bowl and chill in refrigerator overnight or until firm (at least 3 hours).
Remove from refrigerator and let sit for 5 minutes. Use melon baller or teaspoon to scoop out the chocolate and form into 1-inch balls. Place topping such as cocoa powder, shredded coconut, or chopped nuts in a bowl and roll the balls in the topping until coated. Place on a tray, separated, and chill until firm, at least an hour.
More Unconventional Wisdom