Rebel Bourbon, the Official Bourbon of the Premier Lacrosse League (PLL)
By Rebel
|
Rebel News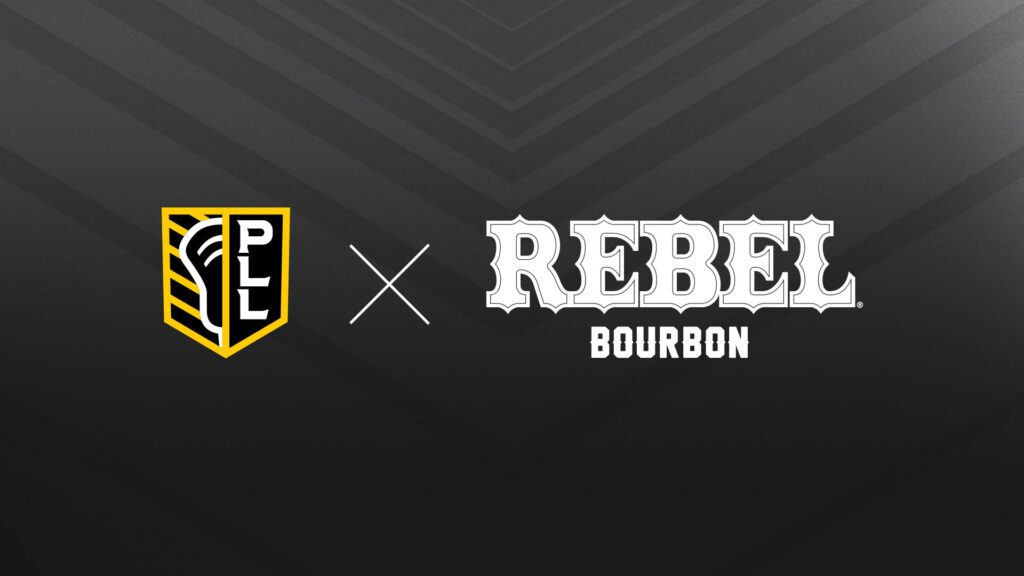 Rebel Bourbon is now the Official Bourbon of the Premier Lacrosse League (PLL) for the 2023 season. The multifaceted partnership includes entitlement rights to the PLL's penalty box, jersey patches with Chaos Lacrosse Club, and an exclusive "Rebel of the Week" content series across PLL platforms.
All in all, it promises to be a helluva time. In this article, we'll discuss what PLL and Rebel Bourbon fans can expect throughout the season, the Chaos Cocktail recipe, and some party-hosting tips on gameday.
The Partnership and Shared Values
"The opportunity to have Rebel Bourbon as the Official Bourbon of the Premier Lacrosse League was a perfect fit for our brand," said Philip Lux, brand manager at Rebel Bourbon. "We align with the league's defiance, freedom, attitude, and rebel spirit that the game brings to its fans. With the PLL quickly becoming can't-miss TV, we look forward to bringing fans of the Premier Lacrosse League together to watch the fastest game on two feet with a Rebel Bourbon."
The 2023 PLL season kicks off on June 3 and 4 in Albany, NY, with games to be aired live on ABC and ESPN+ each day and the season's first "Rebel of the Week" to be presented on June 6.
View the PLL schedule and purchase tickets at www.premierlacrosseleague.com/schedule.
"At the core of our mission to trailblaze the future of sports is a rebellious spirit to challenge the status quo," said Jake Krantz, senior director of partnership development at the Premier Lacrosse League. "We're thrilled to partner with Rebel Bourbon, a brand that highlights the noisemakers and the rule breakers and brings their brand to life across PLL platforms."
Chaos Cocktail Recipe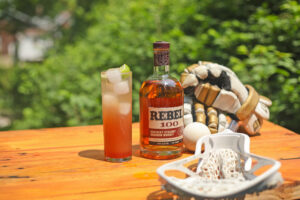 No gameday is complete without a delicious cocktail in hand. Make one, make a bunch–just keep the Rebel flowing. 
INGREDIENTS 
2 oz Rebel 100

 

2 oz Pineapple Juice

 

1 oz Cranberry Juice

 

1 oz Club Soda

 
DIRECTIONS 
Add whiskey, pineapple juice, and cranberry juice to a cocktail shaker filled with ice and shake. Strain over fresh ice into a rocks glass. Top with club soda. 
Need to make it by the pitcher? Combine two parts Rebel 100 and pineapple juice with one part cranberry juice, then top with one part club soda. 
Need other cocktail ideas? Check these out. 
Share your gameday concoctions with us on social using #ChaosCocktail and #RebelFan. 
Party Hosting Tips 
Whether you're an avid PLL fan or just getting into the sport, we have some tips to make your gameday party worth its weight in whiskey. 
First, know the rules 
If you're new to men's lacrosse, you'll need to know these basic rules:
10 players are allowed on the field for each team–3 attack, 3 middies, 3 defenders and 1 goalie.
Goals are worth 1 point each unless scored from behind the two-point line, which is about 15 yards away from the goal.
Lacrosse balls may not be touched by a player's hand except by the goalie.
Each PLL game is four quarters long, each quarter lasting 12 minutes. Extra time is placed on the clock for timeouts. And if the game is tied after regulation, there is one overtime period that lasts 12 extra minutes or ends if one team scores. All in all, expect a PLL game to last up to 80 minutes.
Next, know the teams 
The PLL played its first season in 2019. Co-founded by lacrosse superstar, philanthropist, and investor Paul Rabil and his brother, serial entrepreneur, and investor Mike Rabil, the PLL is backed by an investment group composed of Joe Tsai Sports, The Chernin Group, Arctos Sports Partners, Brett Jefferson Holdings, The Raine Group, Creative Artists Agency (CAA), The Kraft Group, Bolt Capital and other top investors in sports and media.
There are eight teams in the Premier Lacrosse League comprised of the world's best lacrosse players:
Waterdogs

 

Redwoods

 

Chaos (sponsored by Rebel Bourbon)

 

Cannons

 

Atlas

 

Archers

 

Chrome

 

Whipsnakes

 

Champions in 2019 and 2020

 
Now, let's party 
Hosting a great party is about three things: fun guests, delicious food, and strong beverages. With Rebel 100 on tap and the Chaos Cocktail recipe above, you have that last one covered.  
Lacrosse is called the fastest team sport on two feet for a reason. It's quick and involves a whole lot of scoring. This means the action at a lacrosse party is non-stop.  
Tip #1: Make your drinks and set your bar ahead of time. With less than two hours to work with, no one wants to miss a goal cutting up lemons or limes and trying to find the Rebel 100.   
Tip #2: Keep the food simple and delicious. Tailgate food is usually handheld, portable, and easy to nosh on. Burgers, wings, chips and dips, bbq–you really can't go wrong with any of these. What's even better is that Rebel 100 Bourbon goes great with all of it! 
Tip #3: Celebrate the moment. PLL is fast, and there's a ton of scoring, but it's also known for big hits and big plays. Rebel 100 is celebrating those special moments with in-game activations, and so can you! When a big play or hit happens, pass around the Rebel 100.
Of course, always drink responsibly. 
We hope you're as excited as we are about Rebel Bourbon and the PLL joining forces to bring you some awesome action. We think you'll agree: some partnerships just make too much sense. 
And be sure to follow both Rebel Bourbon and the PLL on Instagram to see game recaps and highlights all season long. 
And, if you need to stock up before June 3rd, find Rebel Bourbon near you!