5 Badass Tattoo Artists You Need to Know
By Rebel Bourbon
|
Rebel Lifestyle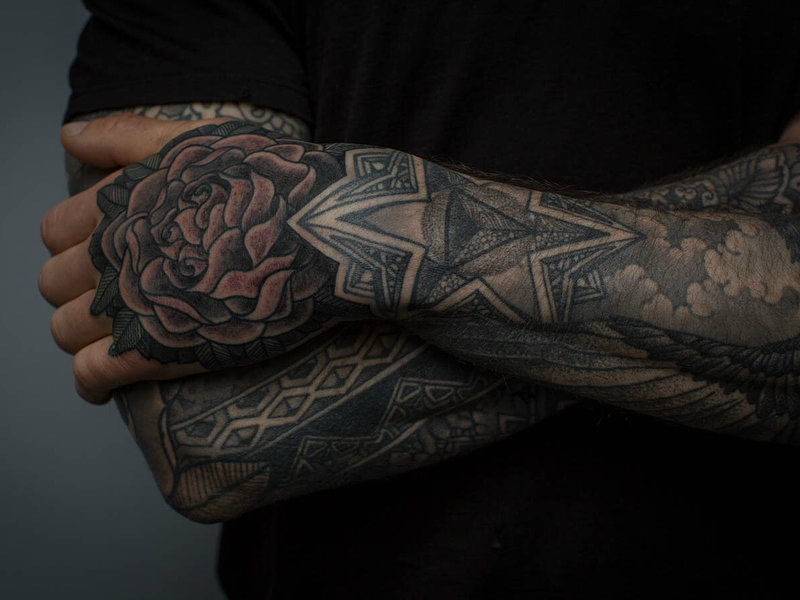 Here are five talented ink stars currently doing their thing in Austin, Louisville, Pittsburgh, Portland, and Seattle. We know the world is full of talented tattoo artists, though — and this is merely scratching the surface. Even if you don't live nearby, these shops are worth the trip.
Thomas Hooper at Rock of Ages in Austin, Texas
Having worked both in London and in New York, Thomas Hooper already had an international reputation when he landed in tattoo-happy Austin at Rock of Ages, one of the most respected shops in the world. Hooper works primarily in black and white, creating intricate geometrical works of art. Weaving in a medley of tribal, Tibetan, and religious imagery, his designs mesmerize with their detail and depth.
Karl Otto at Five Star Tattoo in Louisville, Kentucky
An avid artist since childhood, Karl Otto has been tattooing for 15 years — the last four of those years at Louisville's highly rated Five Star Tattoo. His nickname is "unflappable Karl," and rightly so: Otto is a zen kind of guy who draws his inspiration from the worlds of ornamentation and henna, fusing traditional American and Japanese influences for work that is pattern-based and geometric. He works primarily in black — with only the occasional color — creating depth via precise detailing and varying shades of gray.
Sarah Miller, owner of Wyld Chyld in Pittsburgh, Pennsylvania
Sarah Miller is one of the best known in the rising tide of female tattoo artists, and she's a legend not only in Pittsburgh but on the national front as well. She owns Wyld Chyld, a highly rated parlor in Pittsburgh, but her career really took off after she appeared on season two of SpikeTV's Ink Master in 2012. Her specialty is portraiture and photo-realism, which comes as no surprise, because she graduated magna cum laude from the Art Institute of Pittsburgh in 2008 with a bachelor's of science in graphic design.
Joe Bass at Jade Mermaid in Portland, Oregon
Before founding the Jade Mermaid Tattoo Parlor, a comfortable-yet-classy studio in downtown Portland, tattoo artist Joe Bass studied fine arts and literature at Arizona State University, where he graduated in 2000. You can see the artistry in his work, which can be both hyper-realistic and cartoony at the same time. He's also surely the only tattoo artist in the country with a fluffy white Pomeranian, who shows up on Bass' Instagram regularly, in between the cool tattoo shots.
Asher Bowers at Hidden Hand in Seattle, Washington
Founded by husband and wife Jeff and April Cornell in 2007, Hidden Hand is a cornerstone of Seattle's vibrant tattoo scene, and often it has a waiting list. Among the eight skilled artists on staff, a favorite is Asher Bowers, who is both versatile and precise. He can do everything from a classic "Mom" heart to a realistic portrait, but he's especially noted for his ornate Asian-themed pieces. Regardless of design, his colors are amazingly vivid.
More Unconventional Wisdom